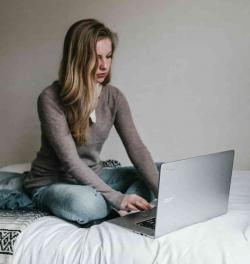 It's safe to say that by now we are all very much getting used to the practice of social distancing in an effort to rid the World of COVID-19 or Coronavirus.
However, while many men are staying indoors to help flatten the curve they are looking for other curves elsewhere in the form of making friends with benefits online.
Many single women who are isolating at home have also turned to adult dating sites for entertainment as they upload saucy profiles and pictures and receive compliments and engage in naughty chat with guys from their local area and also the rest of the country.
Social distancing doesn't mean you can't still get your fix of adult fun, it just means that you can heighten the excitement through the sharing of sexy pictures and x-rated chat so here are a few tips from us on how to get through the lockdown through finding friends with benefits.
1 Really explore and study every word in a users profile from their favourite sex positions to their diary entries as reading what turns someone else on is a turn on itself!
2 They say pictures speak a thousand words so ensure you look through all the pictures a member has to offer as they tend to get more explicit over time as the member becomes more comfortable and don't be shy to upload your pictures too as being worshipped is just as much of a turn on as worshipping someone else.
3 Try a dating site like Friendswithbenefits.co.uk that allows you to join and search profile for free before sending a message, plus, this site is secured by Online Dating Protector giving you peace of mind that you can have fun and flirt in a safe and secure environment.
4 Enjoy!